Welcome to C'SPACE 2023 !
C'Space is the national rockets launch campaign, the appointment between students and space.
Remember to download the "C'SPACE 2023 Participant's Guide" before the launch campaign because it will not be provided on site.
CNES welcomes you to C'Space, from 15 to 22 July 2023, for the annual event dedicated to rockets, Cansat and stratospheric balloons organised by the French space agency. This new campaign marks the culmination of a year's work for 300 participants from all over France and the world.
With the exceptional presence of Arnaud Prost, ESA reserve astronaut
On the occasion of the 60th anniversary of C'Space, Arnaud Prost, astronaut reservist of the European Space Agency (ESA) will be present on Thursday 20 July. This year again, the C'Space will take place at the 1er Régiment de hussards parachutistes (RHP), on the Ger camp (65), near Tarbes.
With the help of volunteers from the Planète Sciences association, 300 participants in teams will attempt to launch their (mini-)rocket, experimental rocket (or "fusex"), Cansat and balloon designed and implemented collectively during school time or in clubs. This unique experience in France is supervised by the CNES.
A round-table discussion with CNES experts, moderated by Hugo Lisoir (Space YouTuber), is scheduled for Thursday 20 July from 9pm to 11pm and will also be broadcast on the CNES Twitch.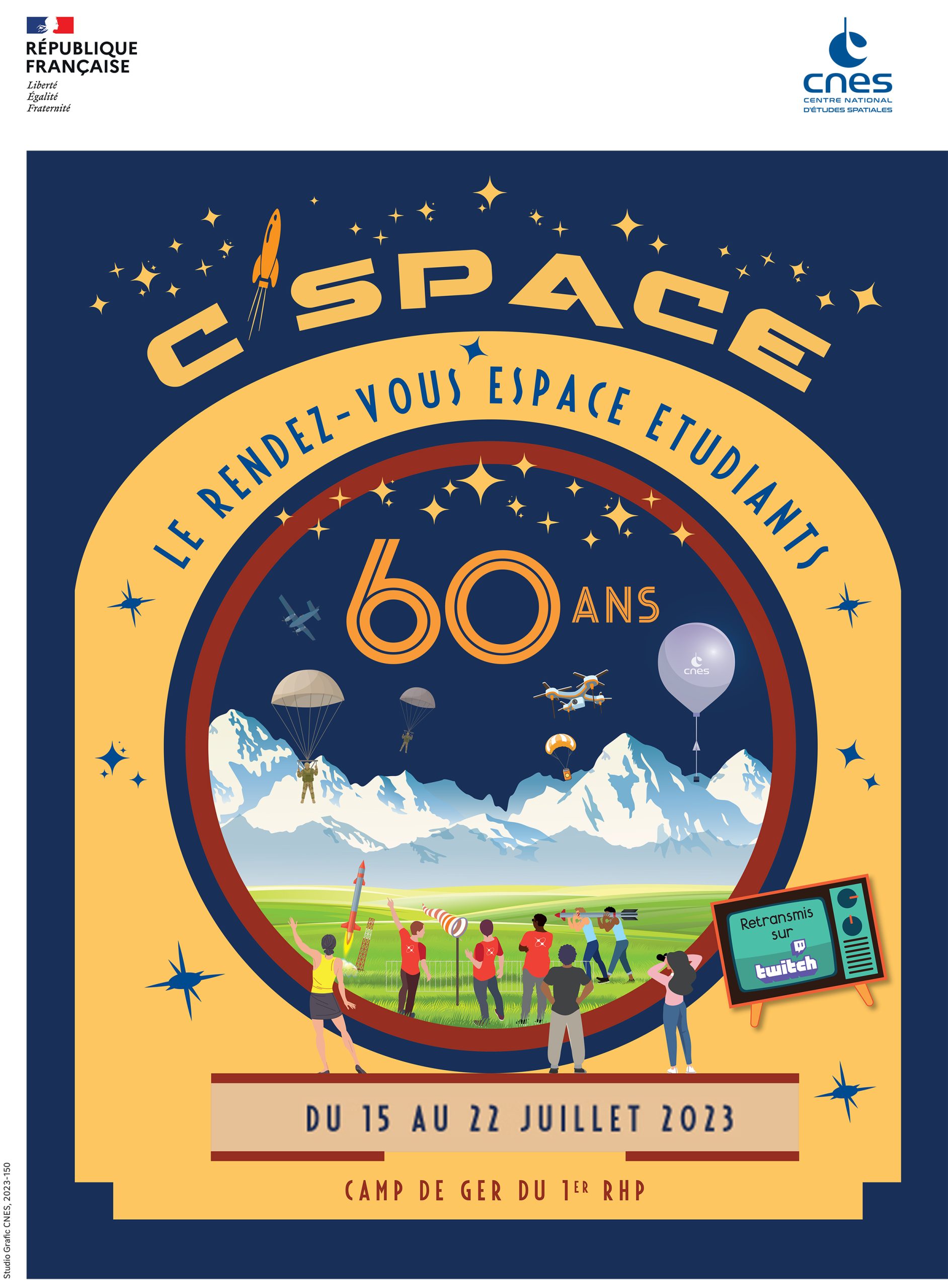 CanSat France competition
The CanSat France competition was established in 2009 as part of the C'space event. Since then, it has become a must-attend event for young space exploration and cutting-edge technology enthusiasts.
The challenge is significant: to build a satellite the size of a soda can that will be dropped from a drone at a height of 150 meters to conduct specific scientific and technical experiments.
Every year, teams of young talents embark on this adventure. Each team must perform a deployment mission and add at least one free mission to explore the limits of creativity, such as conducting an atmospheric survey, terraforming, or determining the landing position precisely. To top it off, a bonus mission is proposed each year to spice up the competition and provide an additional challenge.
The projects are evaluated by a panel of experts who reward the team that has done the best job based on several criteria.
This competition is growing in popularity every year, with more and more participants and increasingly ambitious projects.
The Centre national d'études spatiales
The National Centre for Space Studies (CNES) is much more than just a French space agency, it is a true pioneer of space exploration. Since its creation in 1961, CNES has been working tirelessly to make space a major issue for our society. Its headquarters is based in Paris, but its activities are distributed across two space centers in France, one in Toulouse and the other in Kourou, French Guiana.
In close collaboration with its European partners, CNES conducts research and development projects for the study of Earth and the Universe by designing and launching state-of-the-art satellites. The CNES is also known for its commitment to youth and education by organizing the C'SPACE every year, a rocket launch campaign that allows young people to learn about space technologies.
In summary, the CNES is a key player in space exploration, a driver of technological innovation, and a defender of scientific education in France.
Get all C'Space news on CNES website.
Provisional schedule, some activities may be added or replaced.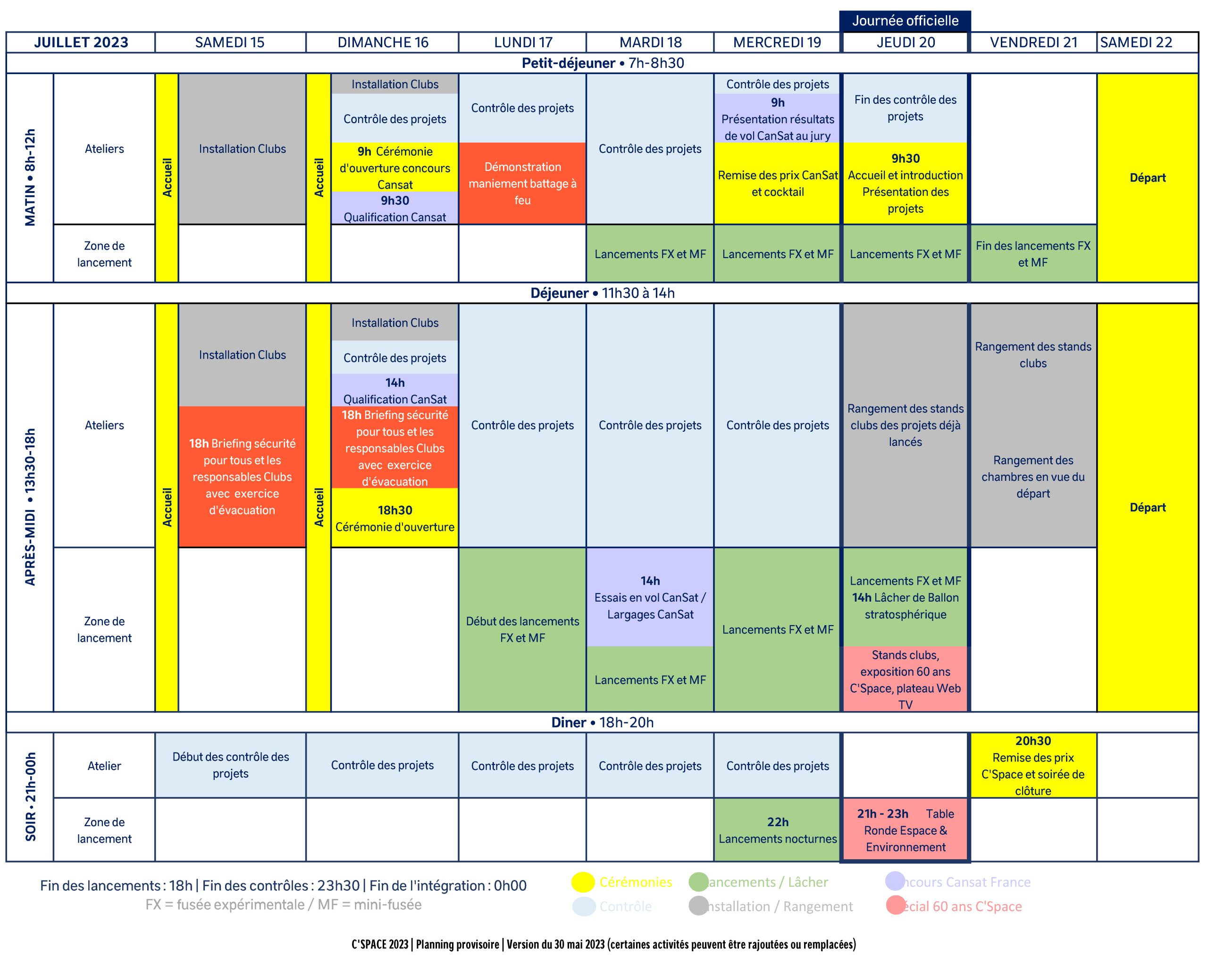 To participate in the C'SPACE 2023:
1- You have to CREATE AN ACCOUNT
2- You have to REGISTER
Internet Charter
You have to read, print, sign and bring back the Internet Charter at the secretariat on the day of your arrival.
Any cancellation request must be sent by email at contact contact@cnes-edu-cspace.com
The following cancellation fees will be applied:
8,50 € (administration cost) for any cancellation request received until 29 June 2023
The full participation fee for any cancellation request received after 29 June 2023.
Administrative costs: 8,50 € (VAT incl.) will be applied for any registration to the C'SPACE 2023.
People who wish to participate in the C'Space without accomodation, nor catering on the 1er RHP Camp de Ger site, still must register online and paid this administrative costs.
The online registration website is open until 21 June 2023.
All the meals have to be taken at the 1er RHP Camp de Ger self-service restaurant at the following hours:
Breakfast: 7.00 am to 8.30 am
Lunch : 11.30 am to 2.00 pm
Dinner: 6.00 pm to 8.00 pm
The meals hours have to be carefully respected in particular for the dinner because you will not be able to come in the self-service restaurant after 8.00 pm and you will have to leave there before 8.45 pm.
Please note that NO meals may be purchased on site.
Lunch prices
Breakfast: 4,15 € VAT incl.
Lunch: 9,90 € VAT incl.
Dinner: 9,90 € VAT incl.
Gala Dinner: 15,00 € VAT incl.
Participation in the security costs of accomodation : 6,00 € (VAT incl.) per person and per night
Cleaning costs: 5,75 € (VAT incl.)
The dormitories are not mixed and are provided for 6 to 8 people.
Be sure to bring a sleeping bag and a sleep-sling/pillow.
A disposable mattress cover will be available.
Please note that the dormitories are not locked, so please bring 2 padlocks for the lockers at your disposal.
Planète Sciences will run shuttles: the shuttles must be reserved on the registration site (limited places)

Arrival
on Saturday 15 July

Departure
on Saturday 22 July

Between Tarbes SNCF station and the site of the 1st RHP, Camp de Ger

Depending on the arrival time Planets Sciences will come back to you to confirm the shuttles schedule

Depending on the departure times Planets Sciences will come back to you to confirm the shuttles schedule

Between Lourdes-Tarbes airport and the site of the 1st RHP, Camp de Ger

Schedule to be confirmed

Schedule to be confirmed
Hoping for the sun to be on the party, headgear and sunscreen are to be expected!
Think also to bring a flashlight or a frontal to be able to walk into the site during the night.
For more information on C'Space and its previous editions, visit the CNES youth website.
Place of C'SPACE | Camp de Ger
1er RHP – Quartier Dartencet – Chemin de Benate –  64530 GER