Welcome to C'SPACE 2022 !
C'Space is the national rockets launch campaign, the appointment between students and space.
Remember to download the "C'SPACE 2022 Participant's Guide" before the launch campaign because it will not be provided on site.
Organized by the Centre National d'Etudes Spatiales (CNES) from July 16th to 23rd, this event will allow young people to experiment the projects they built throughout the year. The week rhythm will be given by rockets launches and CanSat drops, gathering students and professionals from different horizons and cultures.
2022 marks the 59th edition of C'Space !
This is a special year, CNES and Planète Sciences are celebrating their 60th anniversary.
60 years of innovation, technical know-how recognized by all, punctuated by many projects such as the c'space, it is also 60 years of scientific animation for young people. So, a day has been dedicated for this event, surprises are waiting for you!
This year, as last year, the annual meeting of students with space will take place at the 1st Hussars Paratroops Regiment (RHP) Ger military camp, near Tarbes in the Pyrenees. With Planète Sciences organization, nearly 200 students will be present for this event. C'Space is a unique opportunity for enthusiastic of space to participate to an educational project fostering scientific experiments and techniques embarked on experimental rockets.
The C'Space is an event that allows young people to see their high-tech project come to life and enjoy an unforgettable experience.
Thanks to a strict health protocol, about 38 experimental rockets, nearly 59 minirockets, 5 CanSats and 2 experimental balloons will fly away in the Ger sky this summer.
Supervised by the CNES, which ensures security, a launch area is set up for the launch of the various projects. With the support of the Planète Sciences association, whose objective is to promote the discovery and practice of science among young people, the teams and their projects are monitored throughout the year. C'Space aims at gathering people of all ages around the same passion. This will be a moment of privileged exchanges allowing these young people to benefit from the experience of theirs elders and learn about career opportunities in the space sector. Moreover, with the day dedicated to the 60 years, you could discover and learn new things, C'Space is also the discovery of space for many. To this end, Planète Sciences organization and its volunteers will offer fun activities to educate the little ones as the greatest space segment in a friendly atmosphere.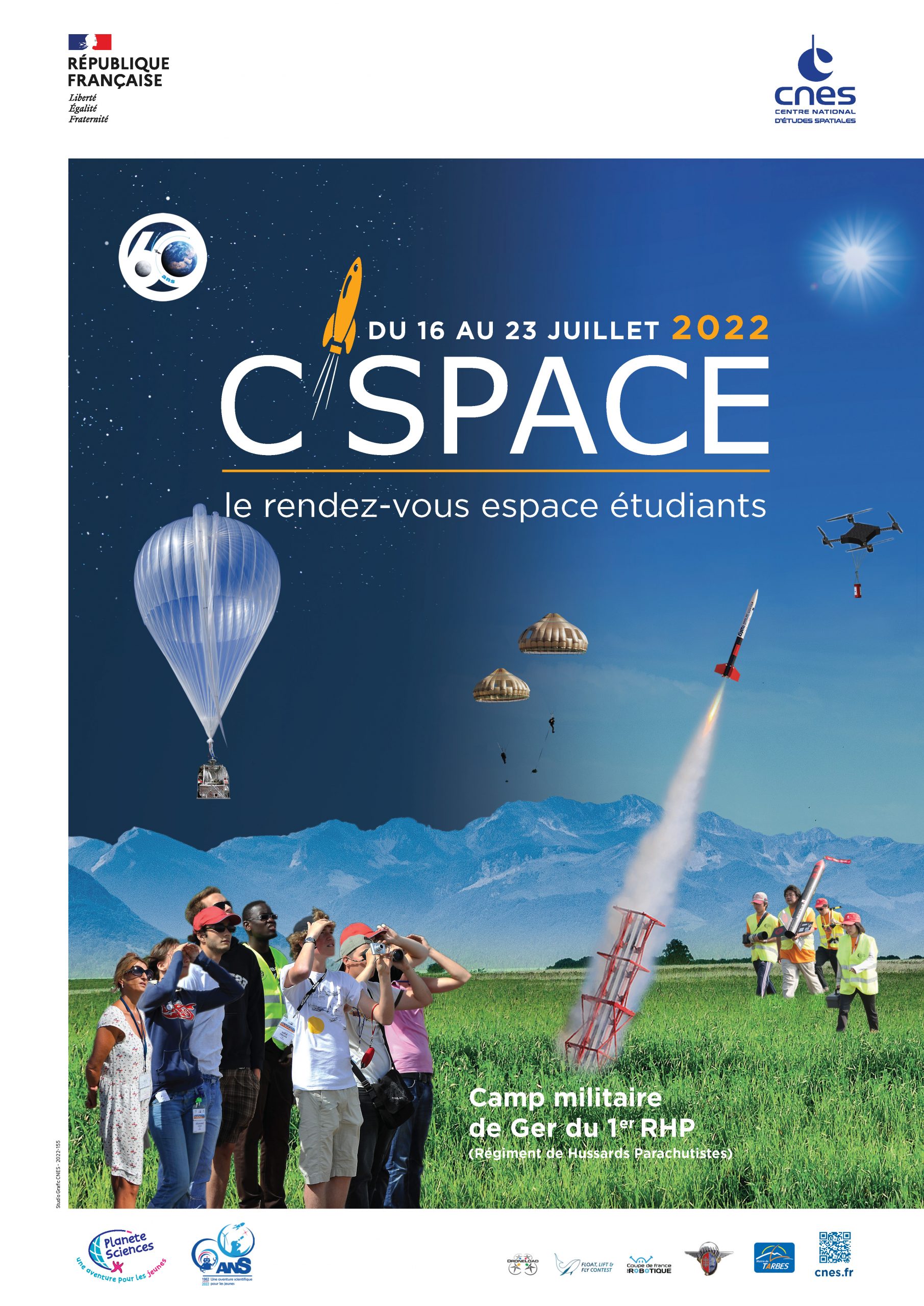 CanSat France competition
Since 2009 the CanSat France competition occurs during the C'Space gathering, allowing young people to take on the challenge to integrate all the essential elements of a satellite into a volume as limited as a can of soda.

Something new is coming to the C'Space this year, the CanSats are dropped by drone!

A good technical challenge before launching bigger rockets!
The Centre national d'études spatiales
For 60 years, CNES has been responsible for proposing and implementing French space policy within Europe. Since its creation in 1961, it has contributed to making space a technological Eldorado. Studying our planet and understanding the Universe are among the many challenges to which the activities developed by the French agency are dedicated. While the development of Europe in space is a permanent challenge, CNES has a priority mission: to serve human beings.
The C'Space rocket launch campaign, is organized every year, so that CNES can ensure the safety of the flights of the launches made by young people.
Get all C'Space news on CNES website.
Provisional schedule, some activities may be added or replaced.
To participate in the C'SPACE 2022:
1- You have to CREATE AN ACCOUNT
2- You have to REGISTER
Internet Charter
You have to read, print, sign and bring back the Internet Charter at the secretariat on the day of your arrival.
Administrative costs: 8,15 € (VAT incl.) will be applied for any registration to the C'SPACE 2022.
People who wish to participate in the C'Space without accomodation, nor catering on the 1er RHP Camp de Ger site, still must register online and paid this administrative costs.
The online registration website is open until Thursday 30 June 2022.
All the meals have to be taken at the 1er RHP Camp de Ger self-service restaurant at the following hours:
Breakfast: 6.30 am to 8.30 am
Lunch : 12.00 am to 2.00 pm
Dinner: 7.00 pm to 8.30 pm
The meals hours have to be carefully respected in particular for the dinner because you will not be able to come in the self-service restaurant after 8.00 pm and you will have to leave there before 8.45 pm.
Please note that NO meals may be purchased on site.
Lunch prices
Breakfast: 3,80 € VAT incl.
Lunch: 9,00 € VAT incl.
Dinner: 9,00 € VAT incl.
Gala Dinner: 12,00 € VAT incl.
Participation in the security costs of accomodation : 5,90 € (VAT incl.) per person and per night
Cleaning costs: 5,25 € (VAT incl.)
The dormitories are not mixed and are provided for 6 to 8 people.
Be sure to bring a sleeping bag and a sleep-sling/pillow.
A sheet and a disposable mattress cover will be available.
Please note that the dormitories are not locked, so please bring 2 padlocks for the lockers at your disposal.
Our Plan
Our Plan

/year

/year

Planète Sciences will run shuttles:

Ces navettes se feront sur réservation sur le site d'inscription (places limitées)

Arrival
on Saturday 16 July
Departure
on Saturday 23 July
Between Tarbes SNCF station and the site of the 1st RHP, Camp de Ger
12.30 p.m./ 4 p.m.
/6 p.m.
9 a.m./11 a.m./1 p.m.
Between Lourdes-Tarbes airport and the site of the 1st RHP, Camp de Ger
11 a.m. to 4 p.m.
(schedule to be confirmed)
7 a.m./10 a.m.
(schedule to be confirmed)
Buy Now
Buy Now
Any cancellation request must be sent by email at contact @cnes-edu-cspace.com
The following cancellation fees will be applied:
8,15 € (administration cost) for any cancellation request received until 30 June 2022
the full participation fee for any cancellation request received after 30 June 2022.
No reimbursement will be made for any cancellation request received after 30 June 2022.
Hoping for the sun to be on the party, headgear and sunscreen are to be expected!
Think also to bring a flashlight or a frontal to be able to walk into the site during the night.
For more information on C'Space and its previous editions, visit the CNES youth website.
Place of C'SPACE | Camp de Ger
1er RHP – Quartier Dartencet – Chemin de Benate –  64530 GER